GUARNTEE TO BE ORIGINAL, 15 DAY INSPECTION PERIOD
WWII U.S. Tankers Combat Uniform Grouping, -ORIGINAL RARE- SOLD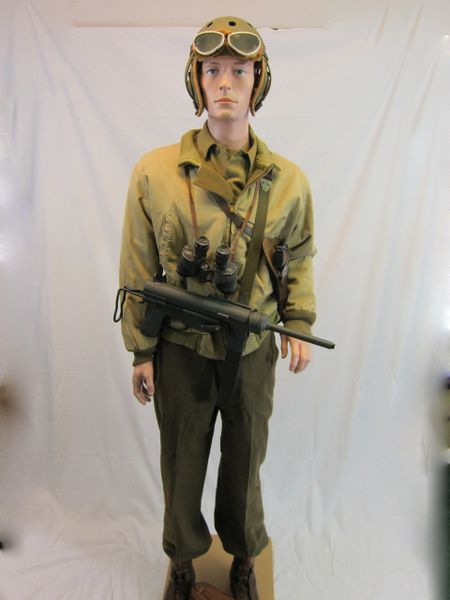 WWII U.S. Tankers Combat Uniform Grouping, -ORIGINAL RARE- SOLD
Description
Original WWII U.S. Tankers Uniform Grouping
"FURY"  
 THIS IS A RARE GROUPING - In great Battle used condition
This is a real nice original U.S. Army Tankers uniform Grouping. Original items part of this group include the following: 1). Original WWII Tankers Jacket. 2). US army issued pants, original and in good shape. 3). Original US M3 1911 shoulder holster marked and dated "BOYT 43" 1943. 4). Original WWII U.S. Rawlings Tanker Helmet, manufacture marked, great shape. 5). U.S. WWII Resistol Goggles, original in great shape. 6). WWII 1943 dated M-3 NASH-KELVINTOR H.M.R. 6x30 Binoculars with M17 caring case, all original and in great shape. 7). WWII U.S. Army shirt. 8). US Original WWII Army Double Buckle Combat boots. This all original tanker uniform group is in great shape and period correct.
This is a great display and fine original period correct WWII tankers uniform group. Would add nicely to any collection, museum or display. Add this to your collection or museum today.   
NOTE: THE FOLLOEING ITEMS ARE FOR DISPLAY ONLY AND NOT PART OF THIS GROUPING. These items are added for a better display. 1). Replica M3 Grease Gun. 2). Replica 1911 Colt 45 pistol. 

NOTE: THE MANNEQUIN IS ALSO FOR DISPLAY ONLY AND NOT PART OF THE GROUP. - SOLD -