GUARNTEE TO BE ORIGINAL, 15 DAY INSPECTION PERIOD
WWII U.S. Thompson Submachine Gun - Demilled Non-Firing - ORIGINAL RARE - *SOLD*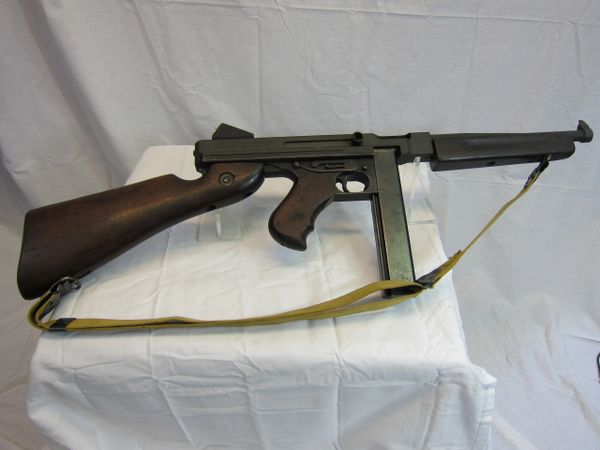 WWII U.S. Thompson Submachine Gun - Demilled Non-Firing - ORIGINAL RARE - *SOLD*
Description
Original WWII U.S.Thompson M1 Submachine Gun "Demilled"
- WWII Original Non-Firing Thompson M1 -
 THIS IS A NICE DISPLAY - In great battlefield condition
This is an excellent display gun for your U.S. Soldier. WWII original battlefield used demilled Thompson M1 Non-Firing display, WWII original, you can see the battle scares on the wood stock. Very good example of the classic U.S. Thompson M1 Sub-Machine Gun. This gun was very popular with the U.S. NCO's. All original parts (except upper dummy receiver, original lower). Lots of amts. marks. Looks and feels just like a live gun, but cannot be made to fire. Comes with a period correct sling. These guns are getting very hard to find and are very desirable by collectors and museums. This is a battle used original U.S. M1 Thompson Sub-Machine Gun.
Get it while you can, it won't last, this would be a nice addition to any museum, display, or high-end collection.  -SOLD-
"THIS GUN IS DEMILLED and CAN NOT BE MADE TO FIRE"