GUARNTEE TO BE ORIGINAL, 15 DAY INSPECTION PERIOD
WWII USAAF "1943" Battle Dress Uniform, 9th Air Corps Capt. Thomas" -ORIGINAL -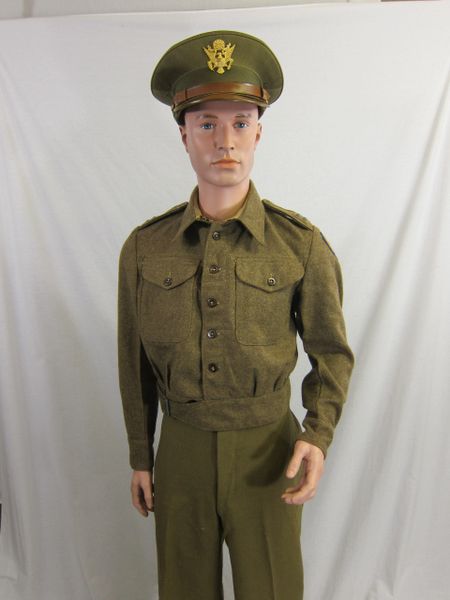 WWII USAAF "1943" Battle Dress Uniform, 9th Air Corps Capt. Thomas" -ORIGINAL -
Description
Original WWII 9th Army Air Corps Officers Battle Dress Uniform
- IX Engineer Command  -
 THIS IS A NICE DISPLAY GROUPING - In great used condition
This is a very nice WWII United States Army Air Force (USAAF) officers battle dress uniform, I'd to "Captain Thomas". The Ike style jacket is in great shape with little wear, nice brown, with belt style attachment. This is a British style Ike jacket, made for Captain Thomas, by "The West Auckland Clothing Co.". Nice rare theater made bullion patch, on his left shoulder, rare patch, probably made in England. Two shoulder bullion Captain bars with a great patina. Nice label inside the jacket, dated "1943" with a separate "1943" date stamped below the date. The size is approximately a size 36, and made in Auckland, New Zealand. These battle dress uniforms made in New Zealand were prized by all the service personnel, as they were considered to be of higher quality and such became very much of a demand item amongst the lucky. Nice original officers trousers. Nice original USAAF Officers crush cap manufactured by "Nudelman Bros." out of Portland and Seattle., manufactures tag inside cap, size 7 1/2 . This is a real crusher cap with cap support device inside. 
The 9th USAAF Fighter Command was in North Africa and at the Normandy landings. They used the P-51 Mustangs, P-47 Thunderbolts and P-38 Lightnings as fighter/bomber support. They saw a lot of battle throughout the war.
This is a fantastic British/Ike style Battle Dress Blouse worn by a U.S. Army Airman in great condition, the pants are nice, only a couple of moth holes, and the cap is a great example of an original crusher style USAAF cap in original shape, and in great condition. All original 100%, nice addition to any collection or museum. 
NOTE: THE MANNEQUIN IS FOR DISPLAY ONLY AND NOT PART OF THE GROUP.