GUARNTEE TO BE ORIGINAL, 15 DAY INSPECTION PERIOD
WWII USMC M1 Steel Pot Helmet w/USMC Camouflage Cover, Swivel Bale, Front Seam w/Westinghouse - ORIGINAL - SOLD-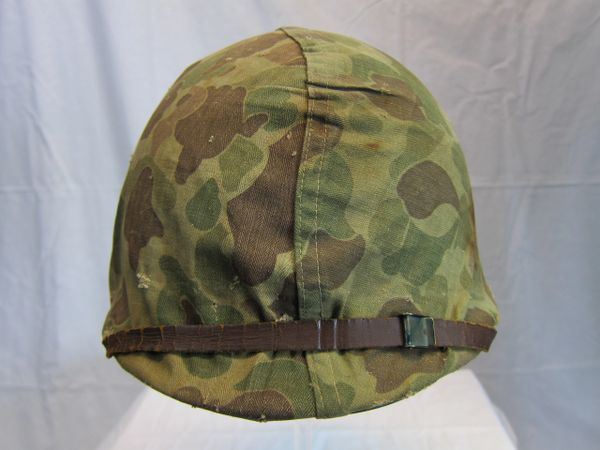 WWII USMC M1 Steel Pot Helmet w/USMC Camouflage Cover, Swivel Bale, Front Seam w/Westinghouse - ORIGINAL - SOLD-
Description
Original WWII USMC Steel Pot Helmet - Front Seam/Swivel Bale w/USMC Camouflage Cove, w/Westinghouse Liner - 
 THIS IS A GREAT HELMET- In Great Battle Used Condition
This is an all original split seam WWII USMC Marines Helmet, with USMC Camouflage Cover. Helmet was manufactured by Schlueter "S" stamped under front edge brim, Schlueter only manufactured helmets during WWII. The helmet has some minor wear on the outside as would be expected with a period piece. It has the original USMC camouflage cover, with the correct pattern, "original, No Pac-Man". It has the original sewn to the bale chinstraps. The lot production Number "429A" and is stamped inside front, under brim of the shell. 
The liner is manufactured by Westinghouse, with manufactures mark stamped lightly on the inside crown of the liner "W" as would be proper for a WWII liner. The liner is in great shape and is original. The liner has the original correct khaki color webbing for this liner, all intact and in great shape.  The head band is original period, and in good shape. Leather chin strap is post war, nice brown color, black-painted steel, secured to liner using original period rounded studs.     
This is a nice helmet of the USMC. The Marines fought in some of the toughest battles of WWII, Guadalcanal, Peleliu, Okinawa, and Iwo Jima,  just to name a few. Great example of a WWII USMC Helmet with original camouflage cover. This would be great in any collection or museum.
FOR ADDITIONAL INFORMATION ON THIS ITEM GO TO emilitariacollector dot com or call 530-339-6162 
I have been collecting for over 30 years, all original items, some have not been seen for 20 years. I have a great collection and will be selling a lot of items this year. I have had so many of these items for years that it's time for someone else to enjoy these rare and fantastic items. I have uniforms, helmet, and military items from WWII and WWI. U.S., British, German, Japanese, and Russian.
Everything I sell comes with a 15 day inspection period from the day the item is received. I will accept returns within the time period for any reason and will gladly refund your money less shipping and fees. I accept PayPal, MO, or personal check (after 7-10 days for check to clear) Winning bidder will email seller within 48 hours and buyer agrees to make payment within 5 days after the end of auction. Buyer pays all shipping charges, shipping charges depends on insurance cost, item weight, and shipping to area. This is not my job, it's a hobby for me that I have enjoyed for may years. KEEP CHECKING FOR ADDITIONAL ITEMS I WILL BE LISTING IN THE NEAR FUTURE. - SOLD -