GUARNTEE TO BE ORIGINAL, 15 DAY INSPECTION PERIOD
WWII USMC 1st Marines Steel Pot Helmet, Swivel Bale, Front Seam w/IMP Liner, Id'd to 1st Marine, 3rd India Co. - ORIGINAL - SOLD -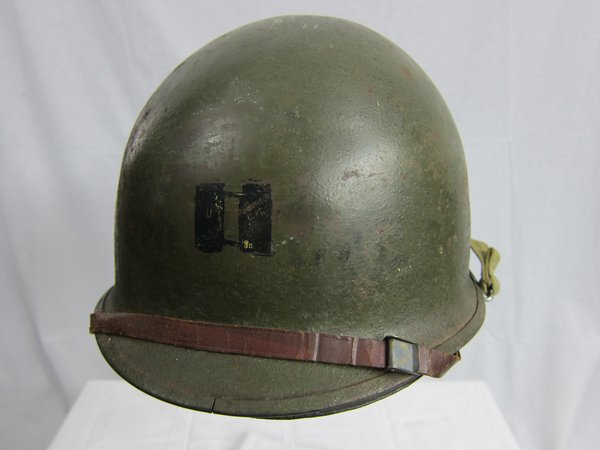 Description
Original WWII USMC 1st Marines, Steel Pot Helmet - Front Seam/Swivel Bale w/IMP Liner - Captain Bars on the Front and Marked with 1st Marine, 3rd India Co. on the Back
THIS IS A RARE HELMET- In Great Battle Used Condition
This is an all original split seam WWII USMC Unit Id'd 1st Marines Helmet. On the front of the helmet, is period painted black Captain bars, there appears to have been white Captain Bars under the Black. I believe the black was painted over white bars, in an attempt to subdue the rank with a little camouflage. Helmet was manufactured by Schlueter "S" stamped under front edge brim, Schlueter only manufactured helmets during WWII. It has the original sewn to the bale chinstraps. The lot production Number "319A" ("A" is hard to read) is stamped inside front, under brim of the shell. On the rear of the helmet is Post War printed "1st Marine 3rd India Co" and scratched above is a name "CAL" The helmet has some minor rust and wear on the outside as would be expected with a period piece. The (1st Marines, 7th Marine Regiment, 3rd Battalion, Company I "India") is post war applied in the late fifties.
The liner is manufactured by International Molded Plastics (IMP), with manufactures mark stamped lightly on the inside crown of the liner "Little figure in a oval" as would be proper for a WWII liner. The liner has original paint finish, and has that period used look, has a hole in the top of the crown, about 9mm or so, but in great shape. It is complete with the original correct khaki color webbing for this liner. The sweat band is original, with the correct color suspension system. Leather chin strap is original, nice brown color, green coated brass cam, secured to liner using rounded studs.
This is a great historical helmet of the 1st Marines. The 1st Marines were in some of the largest and hardest fought battles of WWII, Guadalcanal, Peleliu, Tarawa, and Okinawa, just to name a few. Great example of a US WWII USMC Unit ID'd, 1st marine original war time Helmet. This would be great in any collection or museum.